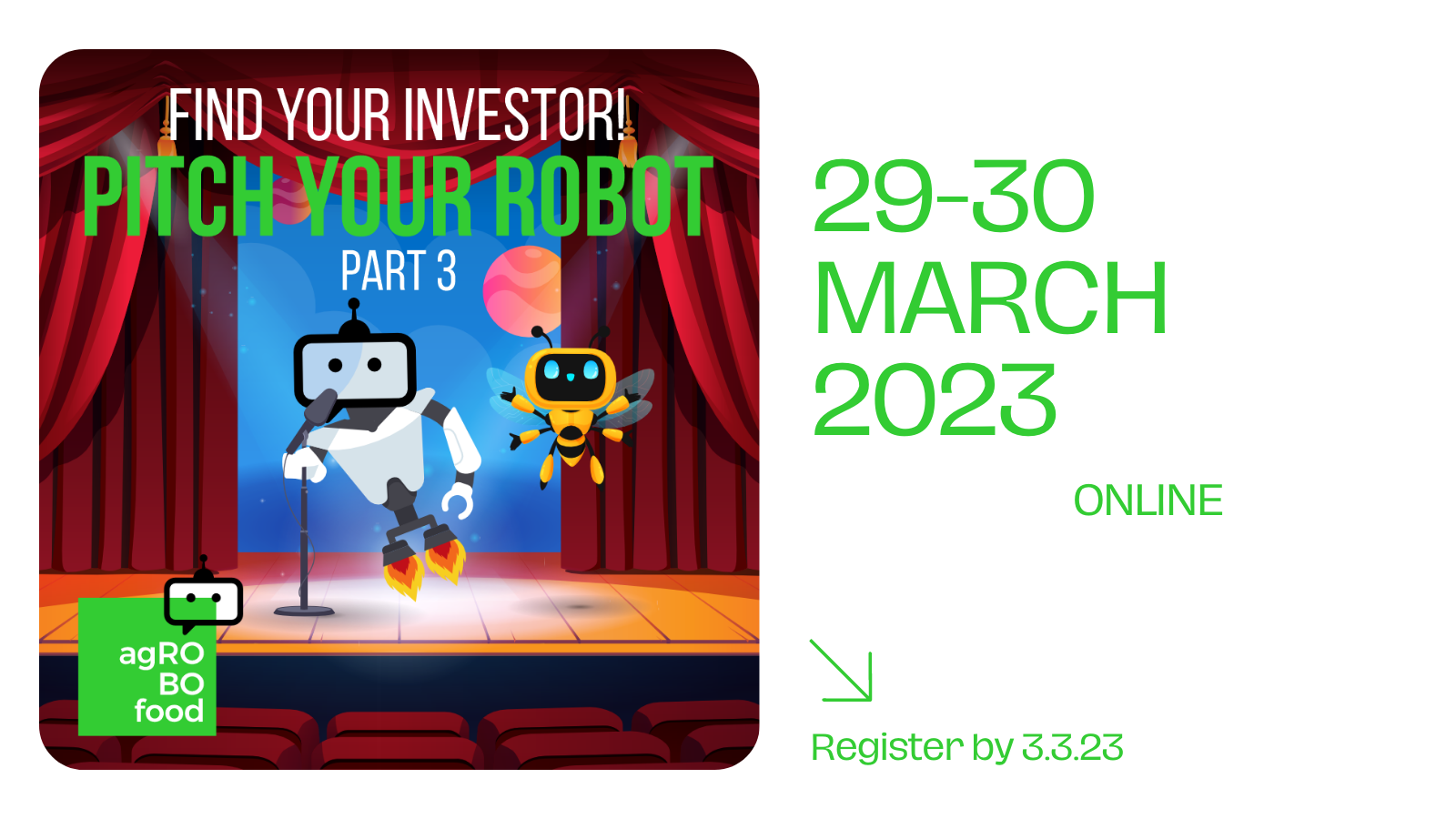 Pitch your Robot...Find your Investor!
Are you an SME building a robot for the agri-food sector? Are you looking for funding? Then you should join agROBOfood's pitching event on the 29th and 30th of March!
The background
agROBOfood, recognizing the importance of robotic technologies, aims to build a pan European ecosystem that will further foster their adoption by the agri-food sector. To ensure that goal, agROBOfood implemented during 2019-2020-2021 the mechanism of Open Calls, through which financial support of 7.5 million euros was provided to around 70 SMEs. Taking into consideration the momentum gained through the Open Calls, agROBOfood furthered its' efforts and started organizing matchmaking events to connect various initiatives with public and private investors!
Pitch your Robot
The first edition of Pitch Your Robot was organized in 2021, connecting 25 startups with 50 investors. The second edition took place on April 7, 2022 as a parallel online event during the agROBOfood project event "From Vision to Action: Robotics Innovations in Agri-Food". Let's remember the winners of the two previous Pitch Your Robot events.
The first PYR21 (February 2021) gathered a total of 25 Robotic Solutions that were pitched in front of the judging panel and the results were the following:
AgXeed (1st place); won 2,5K prize by Kubota;
Faromatics (2nd place); won an Admission to Computer Vision Summer School;
Honey.AI (3rd place); won an Evaluation of Robotic Solution by Senior Tech Panel.
The second PYR22 (April 2022) gathered a total of 7 Robotic Solutions that were pitched in front of the judging panel and the results were the following:
Osiris Agriculture (won 1st place);
Green killer Weeds (won 2nd place);
E-Nano (won 3rd place).
agROBOfood is now organising the 3rd online event "Pitch your Robot". Small and medium-sized enterprises, Startups and Scale-ups that have already developed a robotic solution will have the opportunity to present their technology and secure funding to advance their project during an online event scheduled for March 29th and 30th, 2023.
Besides getting the chance to Pitch Your Robot in front of a highly experienced judging panel and gain exposure, another reason to apply is the prizes! The previous two editions of "Pitch Your Robot" awarded not only financial prizes, but also admission to educational programmes (e.g. the Computer Vision Summer School in Wageningen) and an Evaluation of Robotic Solution by Wageningen's Senior tech panel.
This year's event is bigger and more exciting than anything that came before it! With a whopping prize pool of €200,000, distributed among 5 winners, this is an event you cannot miss. Prizes are distributed in the following order:
1st place wins 75k
2nd place wins 50k
3rd place wins 40k
4th place wins 20k and
5th place wins 15K
Are you a visionary in the field of agricultural robotics? Then don't miss this opportunity to showcase your innovative robot technology and secure funding from top investors.
Register now and take the first step towards revolutionizing the way we grow our food!
Registrations are open until the 3rd of March 2023!
Follow the link at our Eventbrite page.
Once you have registered, you'll receive a Manual with all the information you need to know about your pitch.