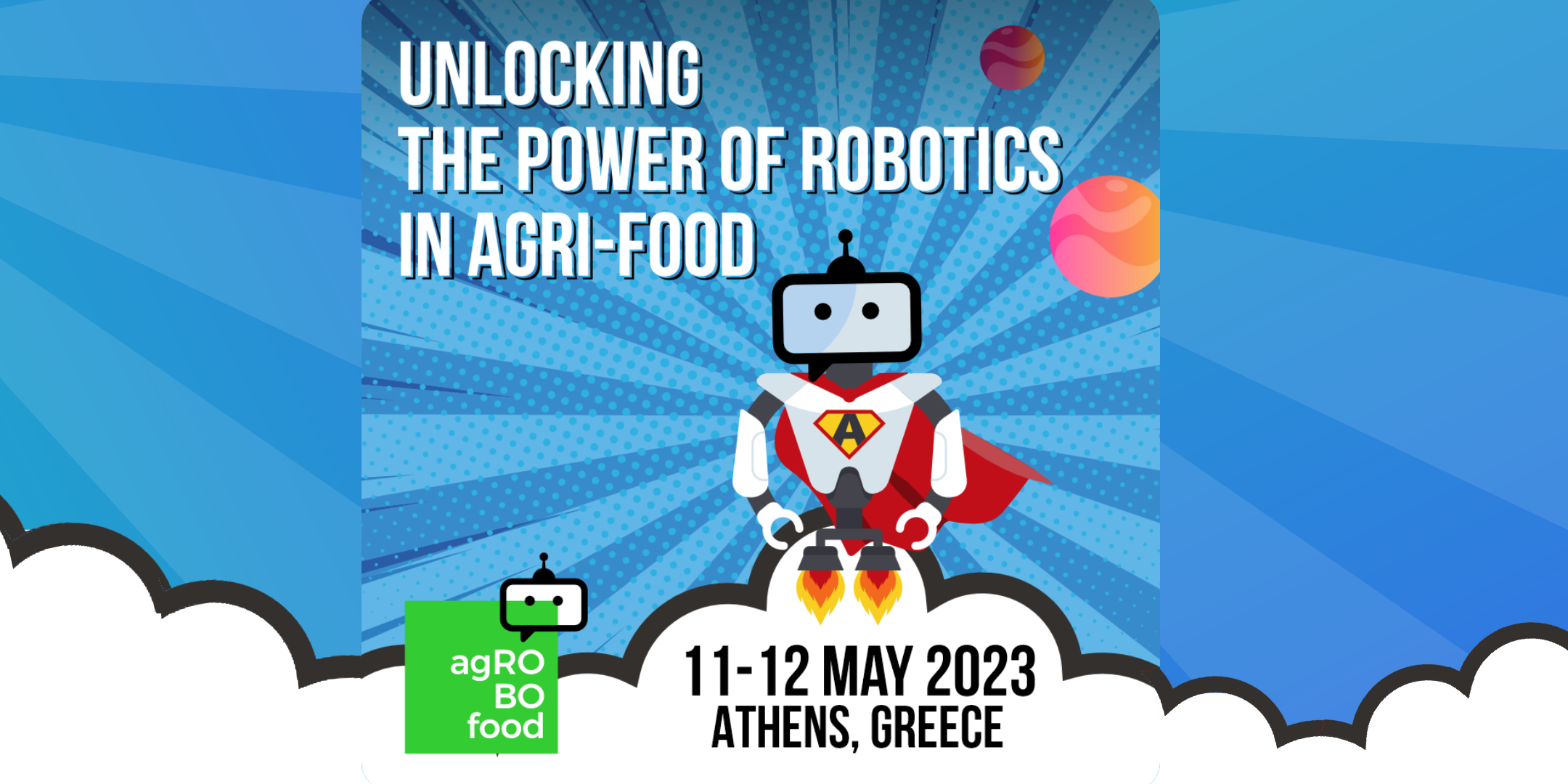 "Unlocking the Power of Robotics in Agri-Food" agROBOfood Network Event
🗓️11-12 May 2023, Athens, Greece
At the intersection of technology, agriculture, food production, sustainability and innovation agROBOfood's network event that will take place this May, focuses on how robotics and digitalisation can shape the future and empower the actors of the value chain.
Join us for a comprehensive, multilayered discussion!
The agROBOfood Network Event
The agROBOfood Network Event will bring together experts from across Europe to discuss the latest trends, challenges, and opportunities in the field of robotics in the agri-food sector.
The participants will have the chance to listen to industry-led perspectives, success stories from technology providers (SMEs), insights from early adopters, and invaluable input from policymakers. There will also be opportunities for networking, hands-on demonstrations of the latest robotic technologies, while a poster exposition will run parallel to the event presenting the innovation experiments developed in the framework of agROBOfood.
Register to join us!
The event is open to anyone with an interest in the agri-food sector, including farmers, producers, technology providers, policymakers, and researchers.
By attending the event, participants will have the opportunity to network with peers, gain new insights and perspectives, and contribute to the development of a sustainable and innovative ecosystem for the widespread adoption of robotic technologies in Europe.
Online registration for the agROBOfood Network Event is now open! Don't wait and follow the link at our Eventbrite page.
You can find the agenda of the event here and some practical information for arranging your trip here.
The Venue
The agROBOfood Network Event will be held in the beautiful city of Athens, Greece. The venue for the event is the Agricultural University of Athens, located in the heart of the city, close to the main tourist attractions and with easy access to public transportation.
The University is the third oldest university in Greece. Since 1920, it has made contributions to Greek agricultural and economic development, by conducting basic and applied research in Agricultural Science and Technology. The university is situated in the neighborhood of Votanikos, on a 25-hectare green campus that straddles both sides of the historic Iera Odos (the Sacred Way of antiquity), close to the Acropolis, at the heart of the ancient Olive Grove.
Athens is known for its rich history, stunning architecture, and vibrant culture, making it the perfect location for this networking event.